staying with the trouble, yes dear
not taking anything for granted
staying with the trouble, yes dear
that's what we're all entitled to!
Inventive, original, thoughtful and genuinely empowering. What once started @ 2014's Queerograd Fest in Graz as a two-headed fictional band-project, a parody on horsey male rock poses, soon expanded to a highly intriguing and passionate punk "NO"wave fivesome: politics AND fun really mean a thing to Lina-Maria Gärtner (guit), Magdalena Elvira Gasser (dr), Reni Hofmüller (voc), Isabella Hollauf (sax) & Eva Ursprung (bass). And they really mean it!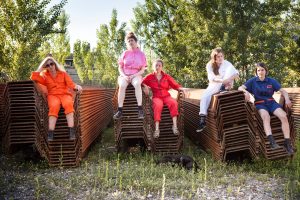 DISCOGRAPHY
Compilation B (Various Artists, CD / Cut Surface 2018)
Obey (7″ / Cut Surface & KIM 2018)
Compilation A (Various Artists, CD / Cut Surface 2017)
Wilhelmine show me the No No No (Various Artists, Cassette / WSMTML 2017)
Aber der Sound ist gut (Various artists, 2xLP / Siluh 2016)
Lonesome Hot Dudes / EsRAP (split Cassette / WSMTML 2015)