OUT:  20.10.2018
FORMAT: Vinyl LP, 300 copies || digital
DISTRO: Cut Surface.
GENRE: Rock || STYLE: No Wave, Post Punk, New Wave
B A N D C A M P  ►►  h e r e
V I D E O S ►►  S c h a t t e n  I s l a n d  //  C y m b a l s 
P R E S S K I T  ►►  d o w n l o a d    
CONTACT  ►► Anna Pühringer via cut(Replace this parenthesis with the @ sign)cutsurface.com
Vienna, 5th district. April 2018. An abandoned electro club in the basement of an apartment building. Vocals, bass, guitar and drums. Lady Lynch play and record all their songs live. Just a few takes. Everything is perfectly prepared. The tracks get mastered by Dino Spiluttini. No post-production. Directly, on tape. Everything sounds exactly as it should.
A white blaze in the dark. So distant. So close. Falling into place: LADY LYNCH's first vinyl long player. Somber and perfectly moody, this Vienna-based four-some feeds the "dis-" to "harmony". With pleasure. Puts the punk into poetry's punctuation. And loves symbols, questioning and musing. [Also: cymbals!] Lady Lynch offer a dark blend of sharp minimalism, highly slick sense of timing and well nuanced repetition far-flung from monotony. Time becomes a black vortex.
LL are Theresa Adamski, Philipp Forthuber, Lina Gaertner and Christian Sundl.
All songs written & performed by Lady Lynch.
Recorded & mixed by Philipp Hanich.
Mastered by Dino Spiluttini.
Artwork by Lady Lynch.
---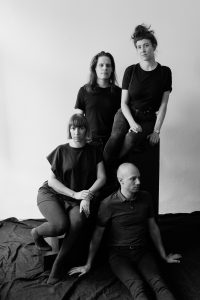 October 2018. LADY LYNCH release their eponymous album via Vienna's bustling and stylistically confident label Cut Surface. It is where great emphasis is put on collective action, esteem, friend-ship and the break-up of unambiguity's canon (Hommage).
"Don't you be so cool". The first words sung put their finger straight into the wound of these uncertainties on which we got to toil & moil every day anew.
Us, functioning little apparatuses (Fundamental Friend Dependability / Tiny Machine). It has to be love. And it has to be heavy reliance on each other. Never nothing can ever describe the collaboration within a band.
LADY LYNCH is everything and collective. From Girls Rock Camp to Wilhelm Show Me The Major Label, to Crystal Soda Cream, to fine arts. Back to the early 80s, to Lydia Koch aka Lunch and David Lynch, to the bollocksed Bowery area. To druggy and grey Berlin around Blixa, Gudrun and Nick during the time of the wall, to rural phoniness – in the northwestern U.S., in Styria or elsewhere.
So why something new, when the old was viable? Expand the idea of the band. Withdraw the voice's primacy, use it rather as an instrument than as a text generator. Challenge everything that the system does (not) achieve (Ranciere / Cymbals). LADY LYNCH is a Louise Bourgeois-kraken, acting with one arm here, there with the other (Actors and Networks). Punk and riot grrrl shape the tool of self-empowerment – to display the process of musical creation along with all formation processes related.
– Christina "Chra" Nemec (in transl.)
__ live:
11.10.2018 @ Fluc, Vienna
13.12.2018 @ Venster 99, Vienna ++ Release Show ++
14.12.2018 @ Sub, Graz
03.03.2019 @ Elevate Festival, Graz /w DAF
__ previous discography:
Compilation B (Various Artists, CD, Cut Surface 2018)
Compilation A (Various Artists, CD, Cut Surface 2017)
Hommage (a-side-only 7″/digital, Cut Surface 2017)
Two classic Albums from (tape/digital, WSMTML 2011)
No=Fi /Wilhelm (Various Artists, tape, WSMTML 2009)
Mixtape No. 1 (Various Artists, tape, self-released, 2008)
Untitled EP (CD, self-released, 2008)
Untitled EP (CD, self-released, 2006)