Add color, reframe, follow the prism, head to the beach. Not sure we'd ever be talking about Grotto Terrazza, the Munich based art/music/life project of Thomas Schamann, in these terms, but here we are, adjusting to his ever evolving collage of life in the form of his new album 'Kalte Köstlichkeiten' (out: Aug, 26th '22), an ecstatic uptempo, punchy mitteleuropa celebration of punks in the city.
If his 2019 debut 'Stumpfer Gegenstand' (also co-released by Cut Surface and Maple Death) introduced us to Grotto Terrazza's beautiful intimate translucent dark beat poetry set over art-punk ritmik, foggy nightclubs and musk-induced industrial malaise, Kalte Köstlichkeiten sets the record straight by adding a whole new dimension. Cold Delicacies (the literal translation) delivers so much more, 12 melting popsicles that furiously jump from dancefloor post-punk, brazen EBM, funk sleaze and smoked out cold-wave. What really ties Thomas' musical world together is the scattered use of field recordings, musique concrete and quite literally… life, all sprinkled across his oeuvre, his personal secret weapon, turning an already detailed album into a scrap journal with laser focus.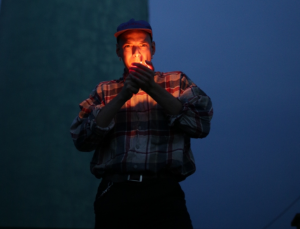 Recorded in both analogue & digital ways, on found, borrowed, bought & given gear, the album is a testament to Thomas' vision in creating a cohesive ride, a semi lucid walk through a summer evening encountering ghosts, violence, illusions and dreams steaming from the streets. Exactly where you want to always be.
Kalte Köstlichkeiten, a refreshing cold delicacy on a hot summer's night. Death disco, new beat and conscious dada all collapsed, like an orange umbrella sitting on a solitary beach. Swim with Grotto Terrazza.
---
previously: